The roof of your home or business is the first line of defense against the elements. If your roof is leaking, it is a sign that your roof has likely been damaged either by weather, debris, wear, or improper installation. At Wright Restoration Services, we provide emergency and routine roof repairs for residential and commercial properties, and we'll deliver local, professional service you can trust.
Our team possesses the knowledge, training, and experience to repair your roof and address any other issues that may have resulted from the roof damage, such as water damage or mold growth. We repair tile, asphalt, shake, slate, cedar, steel/metal, and flat/low sloped roofs. Contact us today for a free estimate or to learn more.

Weather-Related Roof Repairs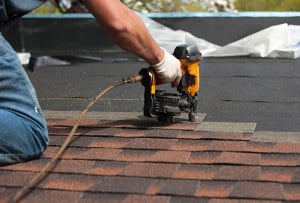 Roof damage may occur due to weather. Weather such as extreme heat or cold, heavy rains, hail, strong winds, ice, and snow can all cause damage to your roof. Your roof bears the brunt of the elements for your property, and expansion and contraction of roofing materials during extreme weather or physical damage to shingles from wind or ice can all lead to a leaking roof.
Debris, such as leaves that clog gutters or tree branches hitting, scraping, or falling on a roof, can result in roof damage and a leaky roof. Clogged gutters can cause water to pool on the roof or overflow and saturate the ground surrounding your foundation, resulting in water intrusion. It's a good idea to check your gutters regularly for any blockages, and to clear tree branches away from your property.
If your roof is leaking or has been damaged by weather, prompt repairs will help protect your property and your belongings, and will limit further damages from water or mold growth.
Wear-Related Roof Repairs
As your roof ages, materials begin to degrade and seals can weaken. This can result in slow water leaks that go undetected for an extended period of time, leading to mold growth or structural damage or rot. It is important to have your roof inspected regularly to identify any potential issues before significant damage occurs, and if issues are identified, that the necessary repairs are made.
Workmanship-Related Roof Repairs
Not all roofing contractors are the same, and unfortunately it is not uncommon for less-than-honest roofing contractors to make repairs with low quality or improper materials, then to leave the property owner with the same problem, or an even bigger problem. We encourage you to do your research first, and only hire a roofing repair contractor you trust and has the knowledge and experience to make quality repairs.
Wright Restoration Services is licensed, bonded, and insured. We are a family-owned business that has been serving Southeastern Pennsylvania, New Jersey, and Delaware for more than 15 years. Our commitment to you—our client—means you receive nothing less than quality work and superior customer service. If you are in need of professional roof repairs, contact us today at (610) 435-7669 for a free estimate.